Products
EGR
(Electrolytic Grinding Reducing)
Electrolytic Polishing is intended for precision polishing in general, but our original Electrolytic Grinding Reducing system (EGR) performs much better in area reduction result.
Unlike the traditional concept of a polishing, we provide excellent quality of finishing while reducing prices.
EGR (Electrolytic Grinding Reducing) is our original foundation polishing technology which have high standing for reduction of environmental impact, improves efficiency and variety.
Reducing environmental impact
Better dust handling than a conventional grinding machine.
Better sludge handling.
Descalable without using strong acid.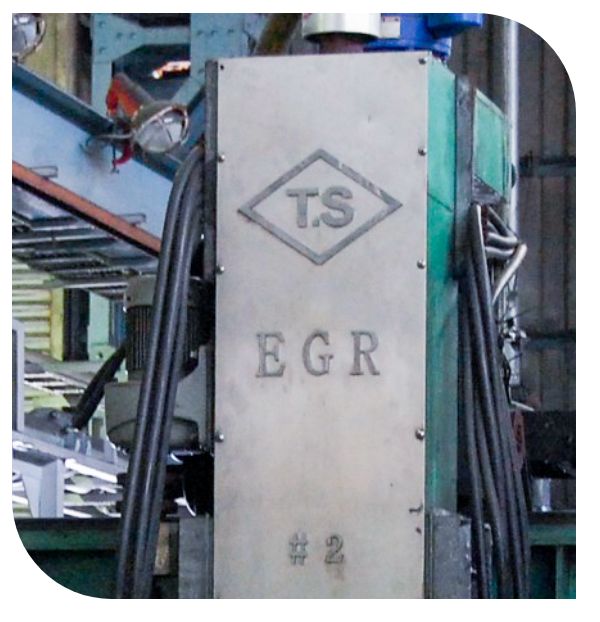 Improve the efficiency of surface skin
By using Hot-Rolling black lebeller, shots, pickling and belt polisher can be omitted.
Improves the quality of finishing process.
Variety of the skin surface
Area reduction of approximately 30μmt in one path.
Smooth skin surface as cold-rolled material.
Ability
Thickness

4mm or more
Width x Length

2500mm or less x 8000mm or less
Electrolyte

30% NaNO3 (Flow velocity: 5~10m/s)
Current density

5~40A/cm2
Head rotation speed

300~600rpm
Technology

Acquired Patent
Japanese patent registered from 2011 to 2016
EP patent registered from 2014 to 2018
Chinese patent registered in December 2016
Korean patent registered in August 2018
Received the 37th Technology Development Award from
"The Japan Institute of Metals and Materials".